X
Dole Packaged Foods uses cookies
We use cookies in order to offer you a better browsing experience, to offer you services and to enable us to carry out audience analysis. Social media of third parties are used to offer you social media functionalities.
By browsing Dole website, you consent to the use of some of these cookies.
You can choose your preferences and modify them at any time by visiting the Cookie Settings. For more details please read our Privacy Policy.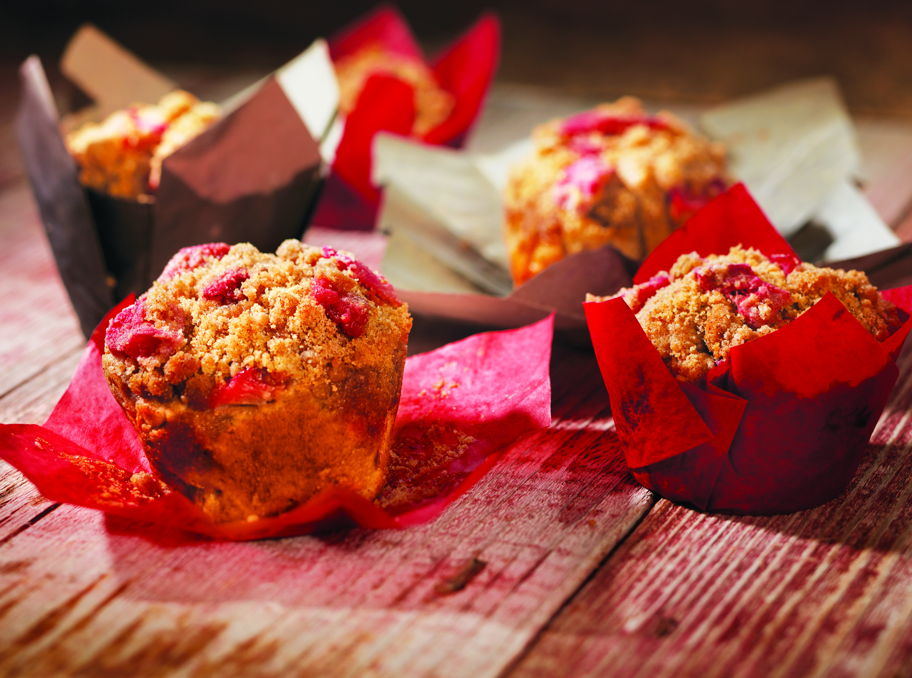 Rhubarb Muffins with Streusel Topping
Fruity muffin with a streusel topping.
2 cups DOLE® frozen rhubarb, defrosted, chopped
1-1/4 cups all-purpose flour, divided
1 egg(s), beaten
2 teaspoons vanilla extract
1/2 cup wheat flour
2/3 cup granulated sugar, divided
2 teaspoons ground cinnamon
2 teaspoons baking powder
1/2 teaspoon baking soda
1/4 tsp salt
1 cup light sour cream
6 tablespoons butter or margarine, melted
Combine 1 cup all-purpose flour, whole wheat flour, 1/3 cup sugar, cinnamon, baking powder, baking soda and salt in bowl, set aside.
Toss drained rhubarb with remaining 1/3 cup sugar, continue to drain.
Blend sour cream, margarine or butter, egg and vanilla.  Stir sour cream mixture into dry ingredients (dough will be stiff).  Toss rhubarb with remaining 1/4 cup flour.  Stir into batter.
Place baking cups in muffins tins.  Divide batter equally into muffin cups. Use spoon to smooth batter.  Sprinkle with streusel topping.
Bake at 375°F. 20 to 25 minutes or until tooth pick inserted comes out clean. Cool and serve.
Streusel Topping:  Mix together 1/3 cup all-purpose flour, 1/3 cup packed brown sugar,  1/2 teaspoon ground cinnamon and 1/8 teaspoon salt.  Stir in 5 teaspoons butter or margarine, melted until blended.  Sprinkle over muffin batter.