Dole Packaged Foods uses cookies
We use cookies in order to offer you a better browsing experience, to offer you services and to enable us to carry out audience analysis. Social media of third parties are used to offer you social media functionalities.
By browsing Dole website, you consent to the use of some of these cookies.
You can choose your preferences and modify them at any time by visiting the Cookie Settings. For more details please read our Privacy Policy.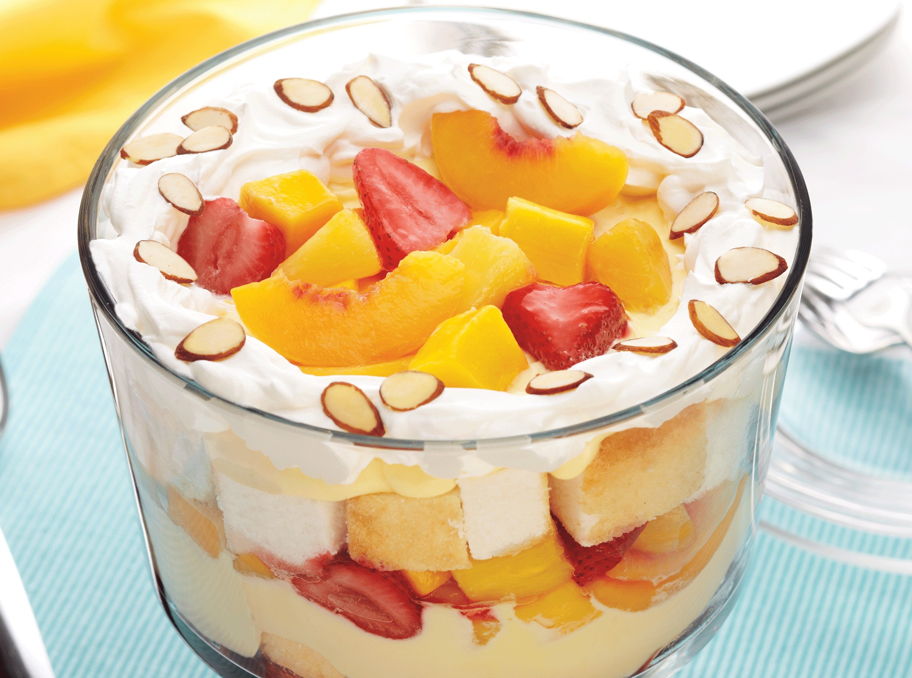 Festive Fruit Trifle
A delicious fruit cake.
1 pkg (8 serving size) instant vanilla pudding
2 cups lowfat milk
1 tub (8 oz) fat free thawed whipped topping, divided
1/2 cup raspberry preserves, divided
1 pkg (10 to 12 oz) prepared angel food cake
2 tbsp fresh lemon juice
6 cups frozen DOLE® Mixed Fruit
1 tbsp sliced almonds, toasted
Mix together pudding and milk until smooth.  Stir in half of the whipped topping into pudding.
Spread 2 tablespoons raspberry preserves on bottom and sides of an eight-cup glass bowl or trifle bowl.

Slice cake into cubes. Layer cake cubes in bottom of bowl.
Combine remaining preserves with lemon juice. Drizzle 2 tablespoons over cake.  Spread on 1/3 pudding mixture and top with 1/3 fruit. Repeat process ending with fruit on top.
Spoon whipped topping around edge of bowl.  Sprinkle with almonds.
Refrigerate for 6 hours or overnight.