Dole Packaged Foods uses cookies
We use cookies in order to offer you a better browsing experience, to offer you services and to enable us to carry out audience analysis. Social media of third parties are used to offer you social media functionalities.
By browsing Dole website, you consent to the use of some of these cookies.
You can choose your preferences and modify them at any time by visiting the Cookie Settings. For more details please read our Privacy Policy.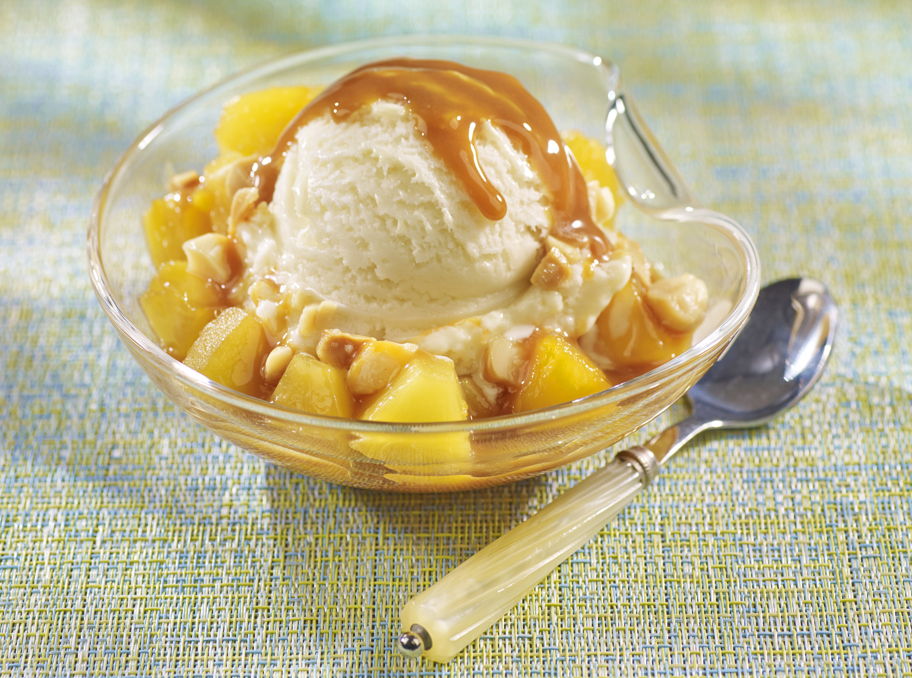 Caramelized Pineapple Sundae
Delectable caramelized pineapple sundae dessert.
1 can (20 oz.) DOLE® Pineapple Chunks in Juice, drained
1/4 cup packed light brown sugar
1/2 cup prepared caramel topping + additional for garnish
1 quart low-fat vanilla ice cream or flavor of choice
1/2 cup toasted macadamia nuts, roughly chopped
Preheat oven to 350°F.  Line a cookie sheet with aluminum foil and spray with non-stick cooking spray.
Combine pineapple chunks and brown sugar in a small bowl; stir until pineapple is well coated with brown sugar.  Bake on prepared cookie sheet for 10 to 15 minutes, or until lightly browned and juices have evaporated.  Allow to cool slightly.
Heat a medium non-stick skillet over high heat; add pineapple and caramel sauce to the pan.  While constantly stirring, allow to simmer 2 minutes, until pineapple is well coated.  Remove from the heat.
Scoop 1 to 2 scoops of vanilla ice cream in chilled Martini glasses, then top with caramelized pineapple chunks, macadamia nuts and additional caramel sauce, as needed.   Top with whipped cream topping, if desired.