Dole Packaged Foods uses cookies
We use cookies in order to offer you a better browsing experience, to offer you services and to enable us to carry out audience analysis. Social media of third parties are used to offer you social media functionalities.
By browsing Dole website, you consent to the use of some of these cookies.
You can choose your preferences and modify them at any time by visiting the Cookie Settings. For more details please read our Privacy Policy.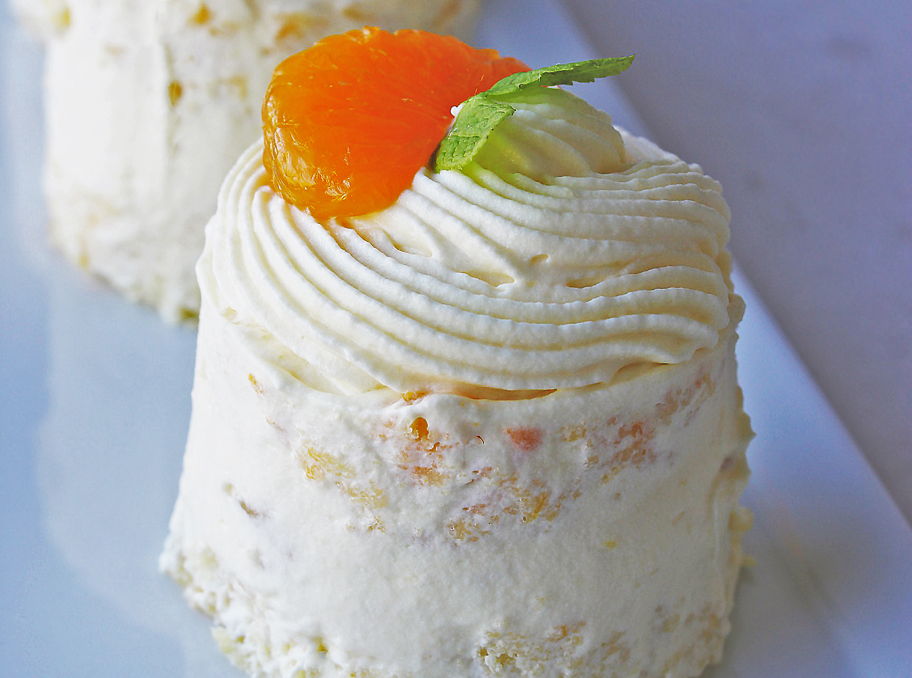 Pineapple Mandarin Mini Cakes
These delightfully fruity Pineapple Mandarin Mini Cakes with DOLE® Crushed Pineapple and Mandarin Oranges are a snap to make and will make a beautiful addition to your table.
1 can (20 oz.) DOLE® Crushed Pineapple
1 can (15 oz.) DOLE Mandarin Oranges, drained, juice reserved
1 box (2-layer) white cake mix
2 eggs
1/4 cup vegetable oil
1 cup plain Greek yogurt, divided
1 pkg. (4 svg.) instant vanilla pudding mix
2 cups frozen whipped topping, thawed
12 fresh mint leaves, optional garnish
Preheat oven to 350°F. Line a 17-x-11-inch rimmed baking sheet with parchment paper. Spray with nonstick cooking spray. Set aside.
Drain pineapple by pressing through a sieve. Reserve juice, approximately 1 cup.
Top each mini cake with another cake round, pressing lightly to adhere. Spread frosting around sides of cake using an offset spatula or knife. Pipe additional frosting onto top of each cake round.
Garnish cakes with reserved mandarin slices and mint, if desired.
Set aside 1 cup pineapple for topping. Set aside 12 mandarin oranges for garnish.
Combine cake mix, eggs, reserved mandarin juice, oil, and 1/3 cup Greek yogurt in a large bowl. Beat for 2 minutes.
Add pineapple and mandarins and continue to beat for 1 minute.
Pour batter into prepared pan, and level with a spatula. Tap pan on counter top sharply several times to reduce air bubbles.
Bake until cake is golden and a wooden pick inserted in the center comes out clean, 18 to 20 minutes. Let cake cool completely in pan.
Combine pudding mix and reserved pineapple juice. Whisk well until thick. Fold in whipped topping and remaining 2/3 cup yogurt.
When cake has cooled, cut 24 rounds from cake using a 2-¼-inch round cookie cutter.
Place frosting in a piping bag fitted with a star tip. Pipe a circle of buttercream onto 12 cake rounds and spoon 1 tablespoon reserved pineapple on top.