X
Dole Packaged Foods uses cookies
We use cookies in order to offer you a better browsing experience, to offer you services and to enable us to carry out audience analysis. Social media of third parties are used to offer you social media functionalities.
By browsing Dole website, you consent to the use of some of these cookies.
You can choose your preferences and modify them at any time by visiting the Cookie Settings. For more details please read our Privacy Policy.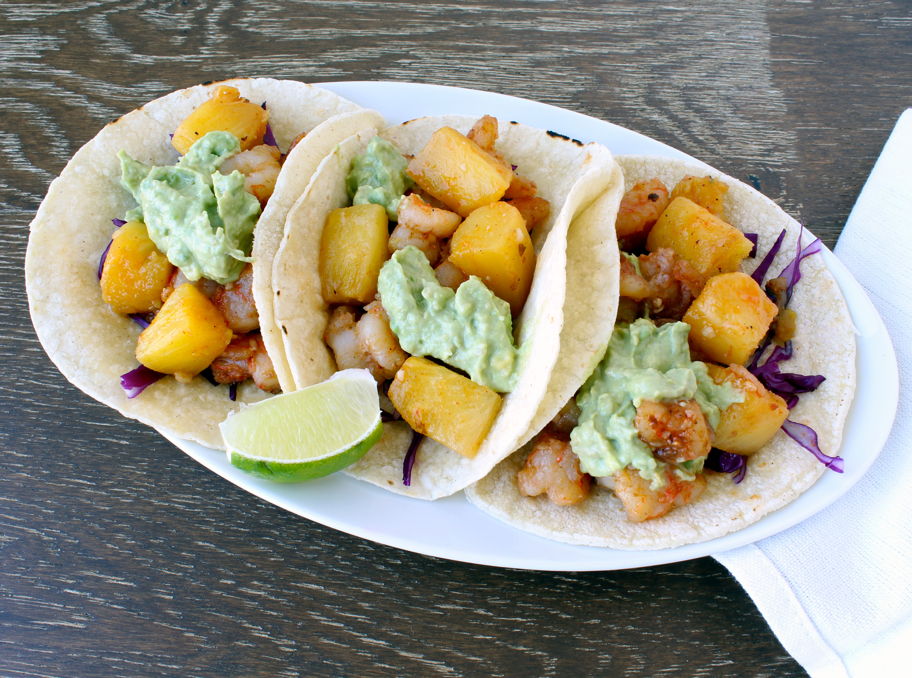 Mezcal Chipotle Shrimp and Pineapple Tacos
Smoky shrimp tacos sweetened with pineapple.
1 tablespoon vegetable oil
1 pound shrimp, peeled and deveined
1-1/2 cups shredded red cabbage
1-1/2 cups frozen DOLE® Tropical Gold® Pineapple Chunks
1 teaspoon minced garlic
1/2 teaspoon chipotle powder
3 tablespoons mezcal
1 avocado, peeled, pitted, sliced
3 tablespoons plain Greek yogurt or sour cream
Heat oil in large skillet over medium-high. Add shrimp, pineapple, garlic, and chipotle. Season with salt and pepper. Sautee until shrimp is almost cooked through, about 2-3 minutes. Remove pan from heat and add mezcal. Return pan to heat and continue to cook an additional 3 minutes until mezcal is reduced. Note: Mezcal will flame.
Combine avocado, yogurt, and lime juice in a bowl and mash with a fork. Mix well. Season with onion salt and pepper to taste.
Top warm tortillas with cabbage, shrimp, pineapple, and a dollop of avocado cream.
NOTE: Chicken may be substituted for shrimp, and tequila may be substituted for mezcal.