Dole Packaged Foods uses cookies
We use cookies in order to offer you a better browsing experience, to offer you services and to enable us to carry out audience analysis. Social media of third parties are used to offer you social media functionalities.
By browsing Dole website, you consent to the use of some of these cookies.
You can choose your preferences and modify them at any time by visiting the Cookie Settings. For more details please read our Privacy Policy.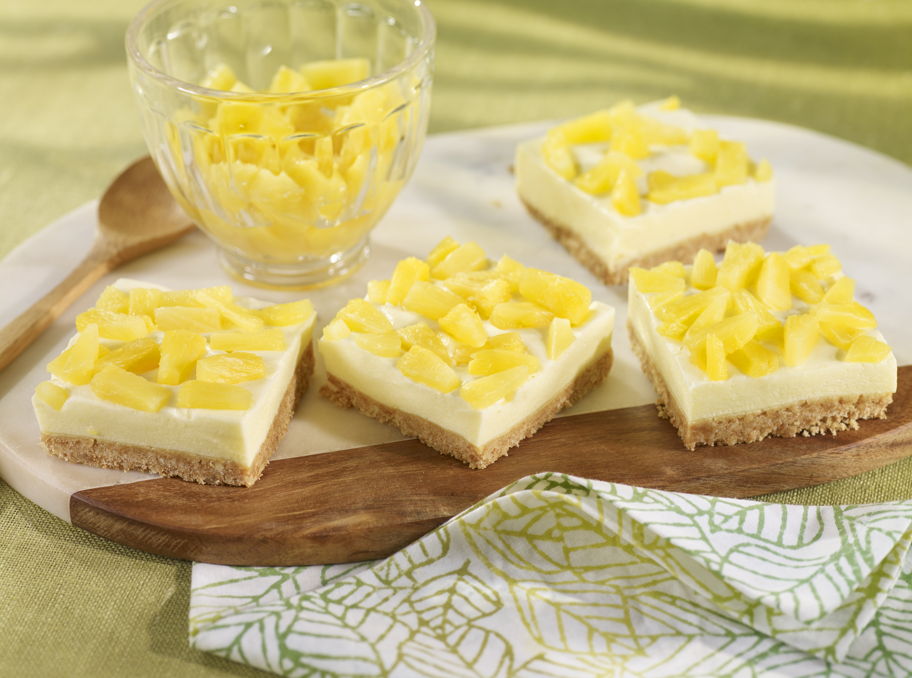 Creamy Pineapple Dessert
You'll enjoy this delicious creamy pineapple dessert.
1 can (20 oz.) DOLE® Pineapple Tidbits
1 pkg. (3-1/8 oz.) vanilla pudding and pie filling mix
1 pkg. (3 oz.) lemon gelatin
1 carton (4 oz.) frozen dessert topping, thawed
2 cup vanilla cookie crumbs
1/4 cup melted margarine
Drain pineapple, reserve juice. Add water to juice to make 2 cups liquid. Combine pudding mix, gelatin and measured liquid in medium saucepan. Cook, stirring, over medium heat until mixture comes to full boil. Pour into bowl; chill until thickened. Fold thawed topping into pudding mixture. Combine cookie crumbs and melted margarine. Press into 9-inch square baking pan. Bake in 375 F oven 8 minutes; cool. Pour pudding mixture into cooled crust. Top with pineapple. Chill about 2 hours until firm.